biAnalytics Office Data Connection
With biAnalytics Web, you have already linked your data sources to biAnalytics, you have also possibly already defined your own views and uploaded flat files into the high-performance in-memory database. All of these data sources, reports and views are also available in biAnalytics Office. Of course, you also create your own views within biAnalytics Office and upload new files into the biAnalytics in-memory database.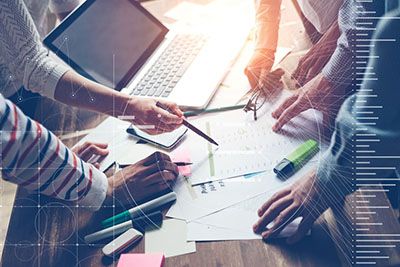 Wenn Sie eine biAnalytics Office Lizenz zu Ihrer vorhandenen biAnalytics Web Lizenz hinzugebucht haben, können Sie biAnalytics Office herunterladen und installieren. Sie können sich anschließend in Word, Excel oder PowerPoint mit Ihrem biAnalytics User einloggen und erhalten Zugriff auf alle Funktionalitäten von biAnalytics Office.
ADDING A NEW REPORT
A list of all available data sources is initially displayed when adding a new report to biAnalytics Office. When you have selected a data source, you get a hierarchical view of all reports contained in this data source. You can now select one or more reports and biAnalytics automatically establishes a connection from Office to your source system.
CHANGING THE DATA VIEW
The view of your data in the data source is perhaps not the view that want to use in the report. You possibly want to show key performance indicators based on another dimension or filter your data before visualisation. The open bi transformation screen lets you carry out all these changes ad hoc – you get a live preview of the current view.
REGULAR REPORT UPDATES
Die Verbindungsinformationen von biAnalytics Office und Ihrer Datenquelle bleibt im Word, Excel oder PowerPoint Dokument bestehen. Auch nach dem Schließen und erneuten Öffnen kann diese Verbindung wiederhergestellt werden. Mit einem Klick auf den "Aktualisieren" Button werden alle mit biAnalytics eingebundenen Daten aktualisiert. Dadurch können mit biAnalytics Office erstellte Berichte periodisch mit einem Klick aufgefrischt werden.
You can test the full range of biAnalytics Web functions for 30 days, free of charge. Register now and get 1 gigabyte of free memory in our high-performance in-memory database. Do you have complex reporting requirements? We will be happy to provide you with support to optimally implement your requirements. We are looking forward to exciting projects!
Evaluate now